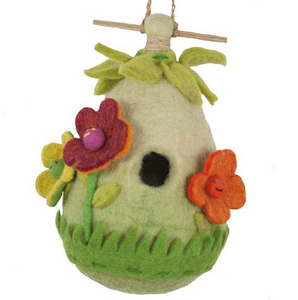 Wild Woolies Friendly Flower Birdhouse
Regular price $45.95 Sale
Hand Crafted from 100% Hand-Felted Natural Wool
Yes, it's absolutely fun and primarily decorative, but birds may well use it in more ways than one. If they don't choose to nest inside they can pull at the wool for material to feather their own nests. Made with sustainably harvested materials such as sheep wool, and features a braided natural hemp hanging cord and bamboo perch. The 100% hand felted wool nest is weather resistant. Rain will naturally shed from the wool, and if it gets wet it will also naturally dry.
The entrance hole is sized just right for wrens and chickadees at 1-1/4", but can be cut slightly larger for other species such as bluebirds, swallows and flickers. We ship the house lightly stuffed with removable paper shred to maintain shape, which can be easily removed as desired. As the house weathers the wool will eventually break down and birds can use the old house to line their new nests elsewhere. 
Carefully hand crafted by Fair Trade artisan group in Nepal. Traditionally handfelted with natural woolen fibers. Made with renewable and recyclable material. Environmentally friendly, non-toxic, azo-free dyes. 
These unique birdhouses are both decorative and functional. They not only can be used as a nesting roost outdoors, but can also serve as a fun decor piece indoors. They make wonderful gifts for the backyard bird lover!
Dimensions: 8.5"H x 5"D