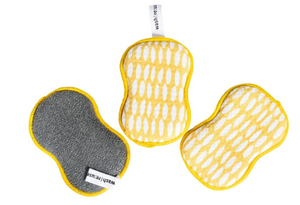 Once Again Home Co. Yellow Beans Reusable Sponge Set
Regular price $18.00 Sale
Get ready to have your mind blown! 
Our RE:usable Sponge is not your average cleaning companion. Not only is it tough enough to tackle any mess you throw its way, but it also has a secret weapon - a charcoal-infused center that keeps it fresher than a daisy in a field of roses.
And when it starts to look a bit worn out from all the cleaning action, just toss it in a mesh bag and let your washing machine do the dirty work. Easy peasy, lemon squeezy!
Plus, our sponge is quick to dry, so you can get back to scrubbing in no time. And let's not forget about its all-purpose size, perfect for any job around the house. 
So, what are you waiting for? Get your hands on our RE:usable Sponge and experience the cleaning revolution!
Dimensions:
Includes:
Three Washable Sponges with Hanging Loops
Material:
Front: 80% Recycled Polyester, 20% Polyamide Foam Fill: 100% Polyurethane Back: 88% Polyester, 12% Polyamide. Imported.