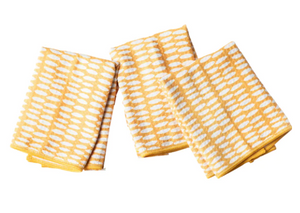 Once Again Home Co. Yellow Beans Mini Towel Set
Regular price $16.95 Sale
Our Mini's work like magic! They're perfect as a replacement for boring old paper towels in the kitchen, or as a casual napkin for any meal. But wait, there's more! They're also soft enough to double as a washcloth for your bathroom, or an all-around quick cleanup tool for your home. They're basically the Swiss Army knife of towels!
And let's talk about how cute they are. They're so joyful and beautiful, you'll want to show them off to all your friends. In fact, you can proudly display them in a basket on your counter for easy reach. It's like having a little piece of sunshine right in your kitchen.
Dimensions:
All-Purpose Size 13"x 13"
Includes:
Three Mini Towels with Hanging Loops
Material:
80% Recycled Polyester, 20% Polyamide. Machine Wash, Tumble Dry Low. Imported