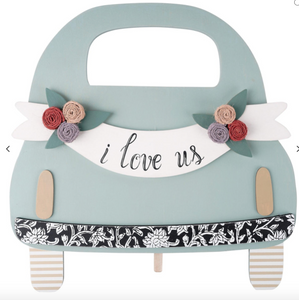 Glory Haus Love Car Topper
Regular price $28.00 Sale
Looking for a versatile decor piece for your newlywed home? Our Love Car Topper is perfect for interchangeable seasonal decor on welcome boards and stand bases. This decor alludes to the ever-evolving journey that is a relationship and often begins with a simple and sweet car like this driving off into the sunset. Whether it's roadtrips with your soulmate or driving the getaway car from your wedding, this car delights its viewers with memories of journeys never forgotten. 
Original Design
Dimensions: 14" x 14" 
Each of our toppers fits within our Welcome Boards and Stands making for easy decoration for any season!
Welcome Boards and Stands are sold separately from the interchangeable toppers.